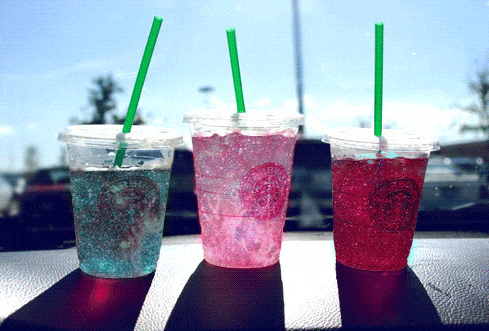 The 250,000 Social Media Photos Of Starbucks That The Company Doesn't Know About
Published 12 May 2014
There is a fast growing social media channel with more than 30 million users and almost no name-recognition among major brands.

It's not Whisper, the buzzy Santa Monica startup where teens post inner most thoughts (or, you know, requests for sex).

It's not Secret, the hot Y Combinator company that has the Silicon Valley innuendo and rumor mill in a tizzy.

What if there were a hot social network that checked all the boxes that would make a brand marketer salivate: mobile & photo driven, big audience, clear and desirable demographic, and (yes, this one is crazy) an actually positive environment?

Meet We Heart It: the most important social network your company brand doesn't know yet.

What Is We Heart It?

We Heart It is a mobile-driven photo-based social network where users share images that inspire them or relate to their daily life. They can organize their photos into collections, and share them with people who follow them. To engage with other people's photos, basically all they can do is "heart" the photos. That, plus no comments, means that the network ends up feeling like a generally very positive place.

The company actually started as an international alternative to Pinterest in 2008, but then a few years ago began to get adoption with a younger, mostly female audience who took and reshaped it into the emerging behemoth it is becoming.

Today, the stats are amazing:
30 million monthly active users
80% users under 25
80% traffic from mobile
4.5 billion page views per month
In short, it's the type of audience any marketer would kill (or at least pay a premium) to have access to.

The Brand Knowledge Gap

At Partnered, we spend pretty much every day talking to startups about brands and brands about startups. Our job is to make connections between people who don't know each other yet, but should.

In the last few years, brands have gotten much more savvy about innovation. By and large, they recognize that every aspect of their business, from the way they market to the mediums through which they tell stories to how they relate to their customers to how they design and fund new products to the nature of their retail experiences, is being transformed, over and over, by new startups.

To try to keep up, many have created Innovation Departments to build relationships with startups and keep executives informed about new opportunities. Many of these departments are even based in startup hubs like Silicon Valley.

Yet still a major knowledge gap exists, and far too few of the brands we talk to know about We Heart It - not to mention dozens of other amazing companies with even smaller profiles.

In the case of We Heart It particularly though, the knowledge gap is painful. A quick search of the network reveals for example: If you're Starbucks, you're missing out on finding a way to engage with the LITERALLY 250,000+ posts focused on Starbucks in the network (most of which are pictures of your product and brands).

If you're Victorias Secret, it's a little bit better for you. You've only recently missed out on 59,025 organic, non purchased images that amount to free advertising, and the hundreds of thousands (if not millions of hearts) that those posts engendered.

Luckily, the network just announced the very first native ads in the platform will be rolling out this week with partners including Candie's, Hollister, Old Navy, and JC Penny. Increased attention and new advertiser opportunities will likely bring a whole new set of brands to the platform.

The Innovation Opportunity

The case of We Heart It is more than the tale of a social network flying under the radar. Instead, it's an indication of the need for a more robust flow of information between brands and startups. We are simply no longer in the era where these little guy-in-the-garage companies can be ignored.

In the new world, the only thing sure for brands is change - change in where to find their audience, what sort of messages they respond to, and even what relationship they want to have with people they buy from.

Luckily, for every shift there is, to paraphrase the famous slogan, an app or startup for that. The real question is: where will you find them?

To read more from the intersection of brands and startups, please sign up for The Partnered Report, a weekly video innovation newsletter.

NEXT: "How Startups Are Changing What It Means To Be An Advertising Agency"